Markets are off to a pretty rough start this year. The slide started around the end of November. Markets began to run out of steam with the Federal Reserve's looming policy shift. The S&P 500 is down over 6% from the beginning of November, and the technology-heavy Nasdaq is down over 12%. Some of the (former) most significant components of the S&P 500, Netflix and Facebook (I will never call it Meta), are down over 42% and 37%, respectively.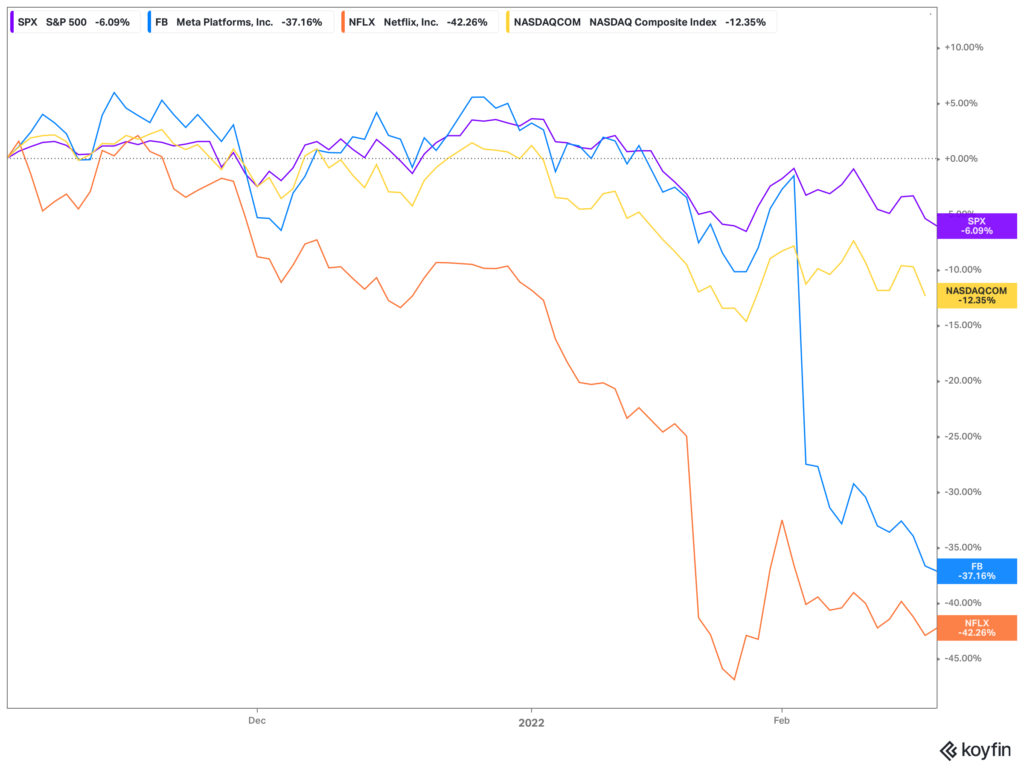 Tech Stock Surge and Fall
Quite a few things are going on here. Zoom, Roku, Robinhood, Roblox, and other "winners" of the "stay at home" trade have given up almost all their gains over the past two years.
The climb of some tech stocks is easy to understand. Interest rates were near zero, Wall Street was bullish on fiscal and monetary policy, and retail traders were flush with stimulus cash. Roku, Zoom, and Peloton all produced astounding sales growth rates in early 2020, and traders pushed their valuations further and further. The relentless climb made it harder for valuation-based investors to justify holding such firms.
So, the "Covid winners" began to unwind, and share prices started to fall. Not much has changed, operationally, with some of these covid winners, as they continue to grow. However, they don't see the blowout numbers from the depths of lockdown.
Some are struggling operationally. Notably, Netflix added way fewer subscribers than had been forecast for last year, and Pelton is slashing jobs to cut costs. Additionally, Facebook is losing users and struggling to pivot its business model after Apple changed the privacy setting on its devices. Not good news if you are investing in a tech growth story.
Astronomical valuations ultimately did not support the growth prospects. The narrative supporting cloud-based business overtaking the world during the pandemic never did come to fruition.
The Surprising Return of Retail
If anything, the pandemic revived brick and mortar retail. Looking at a couple of graphs, we can see that brick-and-mortar stores have finally caught up to online retailers in reaching consumers with better websites and updated services.
Looking at brick-and-mortar retailers like Gap and Target, we see a strong turnaround and stability in stock price movements. Legacy retail got its act together to deliver a hybrid model that could finally serve consumers.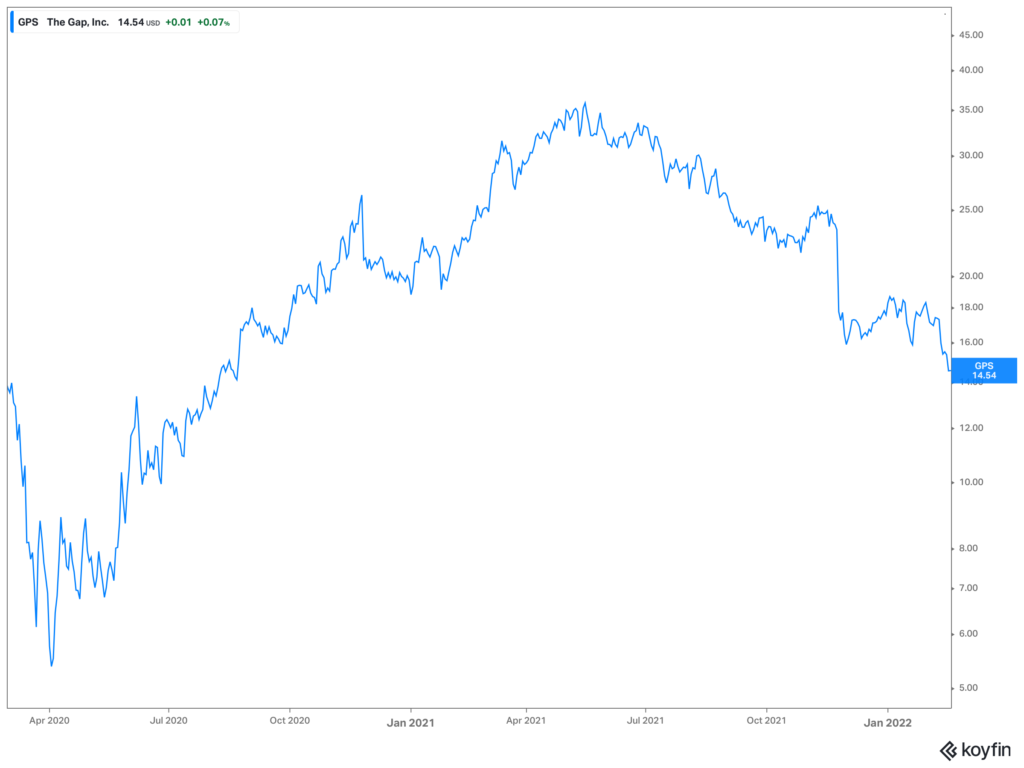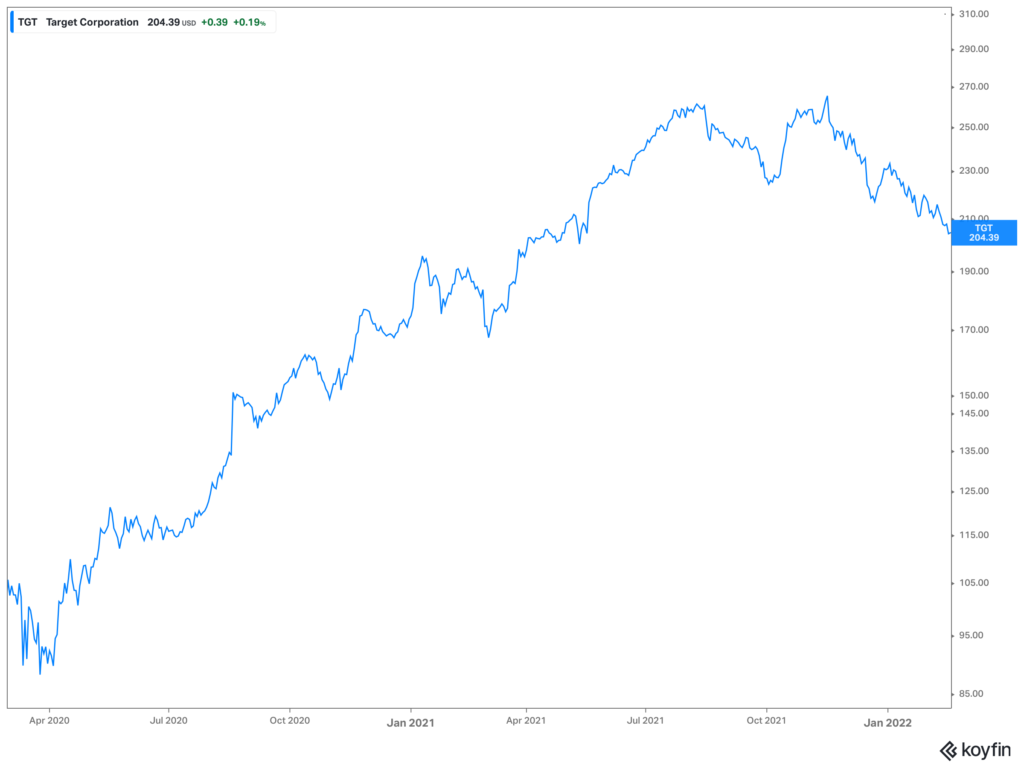 The Federal Reserve Is a Huge Part of Tech's Decline
The market was indeed running out of momentum as we approached year-end. Earnings growth of the retail investor darlings was falling off from the early pandemic highs, but the Federal Reserve put the nail in tech's coffin.
There is no question that inflation is running hot at the moment. There will continue to be debates about the actual cause of inflation and whether the Fed can do anything about it. The Fed does not currently believe its easy monetary policy will continue to help the job market. So, the Federal Reserve is all but guaranteed to begin raising interest rates in the first quarter of 2022.
Why Do Rising Rates Hurt Tech Stocks?
There are two primary reasons for this phenomenon. Frist, with rapid growth sectors, like technology, firms need to deliver increasingly higher returns to justify the risks taken for that high return. On a risk-adjusted basis, investors can purchase bonds that offer more safety for a given level of return.
Second, a firm receives its value based on its future expected profits. Rising interest rates reduce the value of those future expected profits. Increasing interest rates make a dollar today worth more than a dollar tomorrow, so more speculative shares fall.
What Has Done Well Lately
Large value, particularly firms in the energy, banking, and retail sectors, have done quite well over the past couple of months, relative to tech and the overall S&P 500 Index. These firms are not very exciting and tend to be a little bit more cyclical in their earnings, but they make money less speculatively.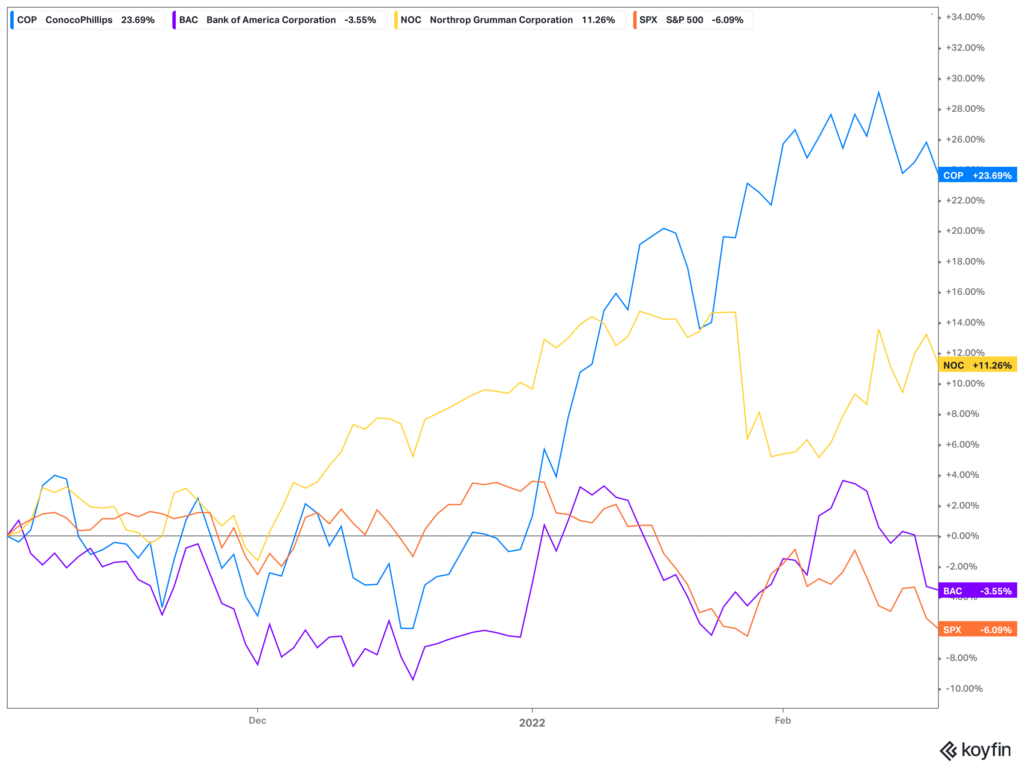 Being diversified has been difficult over the past couple of years, as retail traders have won over headlines with extraordinary profits chasing tech stocks higher. However, remaining disciplined through highs and lows can help avoid missing out on returns and making costly mistakes. Building and sticking to a plan will do more for reaching your goals than speculation alone.